M-Media
29th June 2013
On 27th June 2013, Eleven media group published a cover story headlined "There are Muslim Extremists on Facebook pages like Ludu Mg Karlu and We Love True which are fomenting religious unrest." in Burmese. (In English – click here)
In that article, Eleven media group accused M-Media of being an extreme Muslim media. M-Media senior officials responded it as a baseless accusation and questioned on Eleven's media ethic and its understanding of the word "Extremist".
"One should take serious consideration before using this word "Extremism." They claimed themselves as professional and once they celebrated upon Asian News Network's publishing of their news like the whole world accept their perspective and now they used such word. I don't think it has any distinctness. For instance, while the interfaith dialogue led by US ambassador should be headlined, they are busy with litigation process between Father Land Construction, a Muslim owned company, and Daw Wah Wah Win Shwe, a famous ex-actress. That is the indirect way of inciting hatred. It becomes more important news to them when the case is related to Muslims and they neglected other important matters. So, the usage of the word, "extremist" by such kind of media should not be paid special attention. ", commented by an official of M-Media group.
Eleven publishes the news for the purpose of interfaith harmony is obviously fewer when compared to the publishing of the under table relationship between Muslim businesses and government officials. Editorial view of Eleven's daily run newspaper dated 25th June circuitously described, when discussed about media ethics, that something should not be publicized even though it is the truth unless it is also compliance with the majority's view. Regarding that view, a senior analyst of M-Media group commented that –
"Our publications regarding interfaith harmony are occasionally shared by U Ye Htut (on Facebook). Our media very first objective is also this (interfaith harmony). And our fan page for English section has got the personnel like Mr. Todd Pitman, an AP Bureau Chief. In regard to Eleven's accusation to us, it is so clear that such thing were done by the Junta who used to threaten people with their self-made laws. For instance, one of the former exile media like the Irrawaddy had been threatened and labeled as evil by the Burmese dictator more than once. Now, Eleven media group is portraying the dictatorship. What's the point of blaming a country which has got strong antagonistic towards the reporters for calling other as extremist upon telling the truth? They cannot even ponder themselves yet. "
Eleven media group used the news commentary of M-Media regarding the provocation of a monk at 20th Street in Yangon as a reason of labeling M-Media as the extremist because that news was falsified.
"Of course, that is how they showed their class. I confirm that M-Media had never published the news with such headline. It is so obvious that they have very scarce clues to build such serious accusation against us. That can be also called dishonesty and decisiveness. Because such provocation did not happened at 20th street instead it happened at 120th street. Our headline clearly mentioned that correctly. ", one of the M-Media reporters commented. He continued, "Eleven media group accused M-Media as extremist by pointing 20th street news. But when you read the accusation in their English version, you will notice that they even did not describe 20th street news in giving reason of calling us extremists. That's their craftiness. They published the same headline in two versions, one for local and other for international. That's not good."
Chan Myae Khine who is the Singapore based citizen journalist once criticized Eleven media group on Facebook as Eleven shared their personnel view with the word "LOL" on one of its headlines.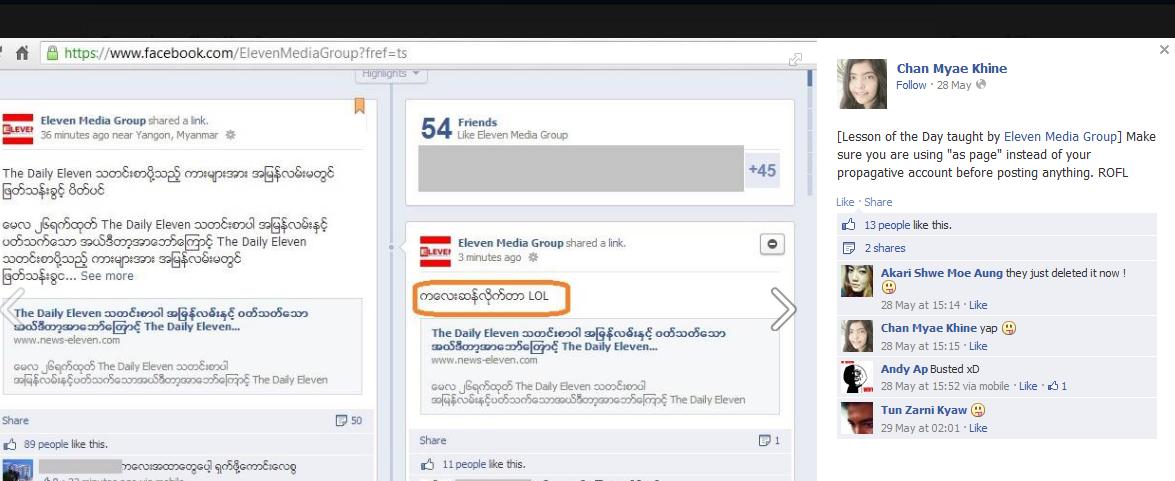 M-Media contacted one of the senior editors for local news and he commented regarding Eleven's accusation against M-Media in its newspaper:
"I tell you very frankly that I don't believe Eleven since after the Rakhine incidents. Their accusation is direct attack to us. But M-Media is always publishing the true stories. I think Eleven bear a grudge and attacked us because M-Media occasionally criticized them upon their deviation and unprofessionalism. Before they review their policy of inciting hatred and fueling up for religious riots, they just accused other of being extremists and that becomes more obvious that their policy itself is fomenting unrest. They should review themselves first before revenging others. Their policy may be based on the financial profit or the support from other and they may also be being controlled by politically powerful group. But whatever thing happening behind, they should stop this hate incitement. If they really love the country and really want to stand by the ethic, they should stop fuelling misinformation."
One of the M-Media consultants also gave his view as:
"My personnel view on the accusation against M-Media as extremist is that Eleven group tried to poison the public as they are afraid from being exposed of mischief. In such case, they just simply used their localized press license and quickly pointed fingers to other. It is acceptable if one media criticized other based on facts. But now, their accusation is just based on arbitrary. So, I have to say that Eleven had just stepped on their own prestigious. M-Media also pointed other if something went wrong. But we never did accusation against other by labeling them as extremist. If I say true, we also can go up to that level to call them back as extremist because there is a pile of facts about Eleven had fomented unrest especially in Rakhine incidents. As the media needs to refrain from two extremes, we avoid from doing so. "
Eleven group is also facing the severe criticisms by the Facebook users who support NLD as Daily Eleven newspaper used the screenshots of their Facebook timeline without their prior consents.
In conclusion, M-Media strongly denounces Eleven group for their allegation as extremists.
Remark: Please take our apology for not being mentioned the viewers' identity due to the security reason.