March 30th, 2017
M-Media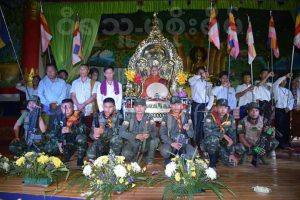 – Are you tired of seeing photos of terrorist groups who proudly show their lethal weapons with their most sacred religious signs?
Even though this is a habit of Muslim terror groups like Islamic State and Al Qaida or Christian terror groups like KKK and LRA, now this photo trend is popular among the Buddhist extremists in Myanmar, a Buddhist majority country.
In these photos taken in Myawadi Township of Karen State this week, infamous extremist monk Wira Thu with members of Karen Border Guard Force (BGF) clearly shows the rise of Buddhist Extremism in Myanmar. In Myanmar, Border Guard Forces are under the supervision of State Armed Forces.
Country's leading Buddhist group, State Sangha Maha Nayaka Committee decided to ban Wira Thu from delivering sermons across the country for one year, starting from March 10 due to inciting religious hatred to cause communal strife, hindering ruled of law and taking sides with political parties to inflame tensions.
But anti-Muslim nationalist monk did not obey the order. These photos are supposed to show his defying and warning civilian government. Wira Thu also promoted the DKBA, an ethnic Karen arm group (now changed name to BGF) as  Buddhist Defense Guard before.
Buddhism is widely known as a religion of peace and passion. In Myanmar society monks are assumed as sons of Buddha and a sign of love. But right now extremist monks like Wira Thu are undermining the essence of Buddhist teachings.
(Photo Credit – Facebook Page of Myint Swe)